Relaxing in the great outdoors provides a peace of mind much different than indoors.
Central Maryland Sunrooms offers you the perfect place for a needed break or a space for entertaining outdoors without leaving home. Our custom decks and railing systems give you a place to relax in comfort, and our low maintenance products relieve you of the need for regular cleaning or repairs and also serve as an investment that can increase your home's value long-term.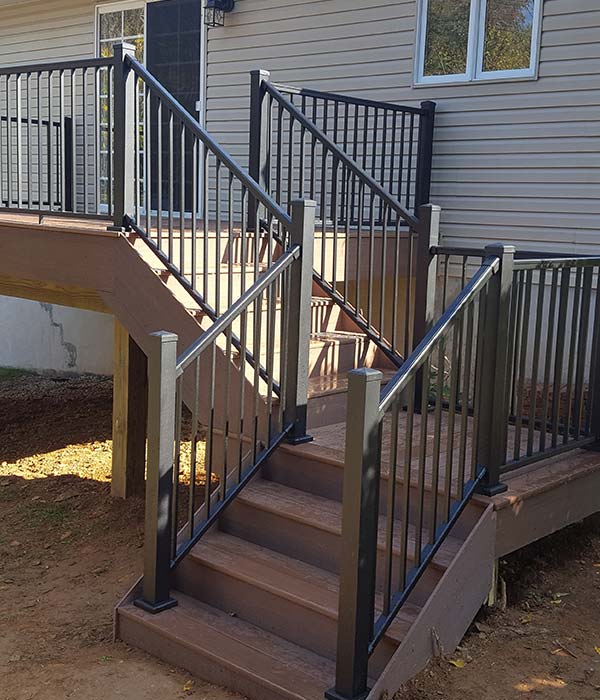 Composite Azek Decking represents a new trend in low maintenance decking. Azek Deck Boards are constructed utilizing PVC, or polyvinyl chloride, an exceptionally strong and durable synthetic material used in vinyl siding. Azek Deck Boards are engineered to withstand everyday scratches and nicks, and they repel moisture, so there's no need to worry about wine stains or grease spills, and because it does not contain wood, the deck won't warp, rot, or splinter. The Azek Deck provides decades of enjoyment without the need for staining or constant upkeep.
Sunspace AlumaDeck Decking System
The Sunspace AlumaDeck Decking System brings versatility to your outdoor deck. Aluminum enables the deck to be watertight, and slip and weather resistant while maintaining strength and quality. AlumaDeck does not rust, crack, fade or degrade over time like woods or plastics. As a thermal conductor, it does not hold heat like other materials, providing a safe space from the heat of the outdoors or in case of accidental fire. The AlumaDeck is guaranteed to outlast wood, membrane or plastic based products and is virtually maintenance- free for your enjoyment.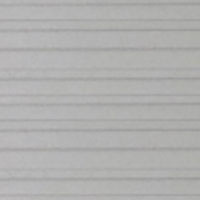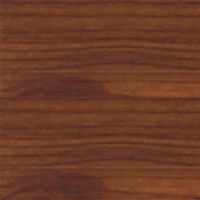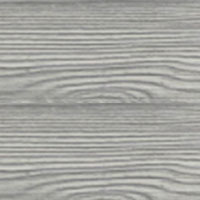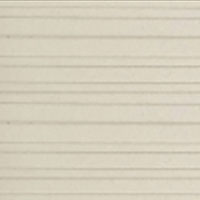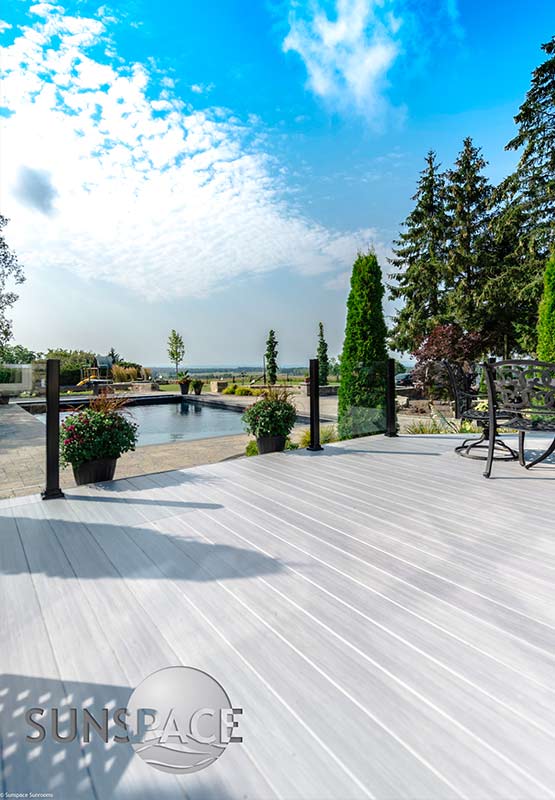 Sunspace Integrated Screen Railings
Our Sunspace Integrated Screen Railings add a sense of style to screened in areas. Designed with safety in mind, the Integrated Screen Railings include full mesh screens with the option to upgrade to No-See-Ums, Solar Insect or Tuff Screens. Choose an Aluminum Picket Railing with an added screen in the colors below.





Sunspace Aluminum Picket Railing System
Style, safety and creativity provide the basis for the Sunspace Aluminum Picket Railing System. This system offers a vast selection of handrail and picket and belly picket designs with unlimited options for customization. Virtually maintenance free, the Aluminum Picket Railing System is built from structural aluminum alloy with no visible fasteners and available in 30", 36" and 42" heights.