Central Maryland Sunrooms and Kiser & Sons Construction Inc.
are part of a storied history of imparting creativity and expertise to produce beautiful home projects that ensure comfort, reliability and durability.
In 1975, Terry Kiser began working as an independent contractor, providing small home improvement services including painting and siding installation. In 1980, the company expanded to homebuilding, completing its first full home construction in Myersville, Maryland. Doris Kiser worked behind the scenes, handling bookkeeping and administrative needs. She officially joined the company full time in 1984.
Kiser's second generation played a key role in the business' expansion in the 1990s. Mark Kiser joined the family business in 1991 and Dave Kiser followed in 1998. Two years later, Kiser & Sons Construction incorporated, and introduced sunroom construction and vertical 4-track windows. Central Maryland Sunrooms became a trade name, owned by Kiser & Sons Construction, in 2000.
Central Maryland Sunrooms was contracted as a Sunspace dealer in 2006, bringing to the area the quality and reliability of a reputable manufacturer known across the United States and Canada.
Central Maryland Sunrooms would undergo continued growth for over a decade, with the addition of Kristie Kiser to the Office staff and Mike Ott to the installation team. Today, Central Maryland Sunrooms, in partnership with Kiser & Sons Construction, provides full-service sunrooms and home remodeling services for generations of satisfied customers throughout Central Maryland and Southern Pennsylvania.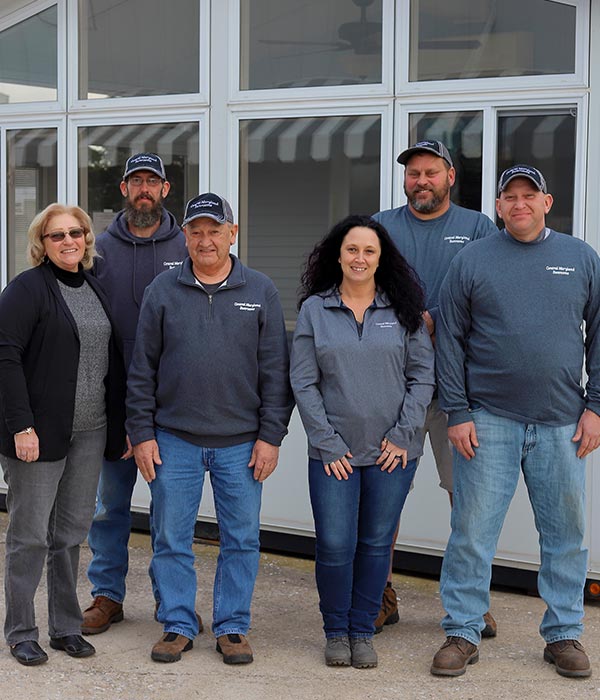 Kiser & Sons Construction Inc.
Since 1975, Terry Kiser has provided quality home improvement contracting services.
His ingenuity and creativity enabled the expansion of services to home additions, decks, finished basements and more. Terry Kiser, along with sons Mark and Dave, provide a hands-on approach to business with client satisfaction the number one priority. We offer a one-stop opportunity for all of your home improvement needs. While we install your new sunroom, we can add a deck or finish a basement at the same time. Accomplish all of your home improvement dreams with Kiser & Sons Construction.